The RoseMary Inn, a Columbia, New Jersey bed and breakfast, is located on 17 pastoral acres in scenic Knowlton Township. This B&B offering lodging accommodations in Northern NJ is the beautifully renovated residence of innkeepers Theo and Elaine Nagelmakers. Guests of the Inn have the opportunity to enjoy all that the Skylands Region has to offer, including the Delaware River National Recreation Area, the Appalachian Trail, the Lakota Wolf Preserve, and the Paulinskill Valley Trail for a variety of naturalist activities including hiking, biking, canoeing, riding, and bird watching.
Come enjoy a calming retreat in one of their five gracious bedrooms. Each guestroom blends old-world charm with modern conveniences including free wireless connectivity, luxurious amenities, and private bathrooms. Relax on the patio overlooking the spring-fed pond or stroll the property's trails rich with wildlife and local flora. Play a round of golf on the nearby Blair Academy course, try one of the many Pocono area links, or simply cuddle up in the library with a good book.
Your options abound at The RoseMary Inn, and they are all offered with gracious hospitality that you'll remember for a lifetime.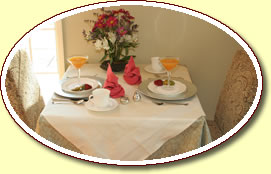 Our guests can't wait for breakfast. A traditional-style European breakfast lures guests to the table every morning. Maybe it's the aroma of freshly baked-from-scratch German apple cake, lemon blueberry tea cake, or cinnamon scones. Maybe it's the prospect of ricotta cheese crepes, Spanish omelets, or a vegetable quiche. Or it could be the simpler allure of artisan breads, fresh fruit cup, spice poached pears, or baked apples stuffed with homemade granola. Of course, it's all accompanied by freshly brewed coffee, juice, and an assortment of black and herbal teas.

Our multiple-course menu varies with the seasons and whimsy of the chef who uses treasured family recipes passed down over generations and collected during decades of international travel. With a little prior notice, we try to accommodate special diets and even pack a light 'to go' breakfast if you have a full day ahead.

We also offer an afternoon sweet. Think English pecan shortbread, Norwegian cardamom cookies, and Dutch spice snaps (like a ginger snap only better). And they're all made with the freshest of locally grown ingredients.

Complimentary full breakfast is served between 8 a.m. and 9 a.m.

Hello summer! We seem to finally be settling in to the normal weather patterns for the season. It's time to get outside and enjoy all the area has to offer.

We did some major landscaping last year and are delighted to say that our flower garden is alive and well and full of color. We planted along a section of our spring fed pond and the garden contains a seating area. The pond is crystal clear and with its fountain provides a refreshing environment.

Naturally it is also a great time to engage in some outdoor activities nearby such as kayaking on the Delaware River, biking along one of the trails, or for the more adventurous hiking a section of the Appalachian Trail. You can check out our activities page to see some other possibilities of what to do in the area.

We'd love to have you join us, breathe in our fresh country air and relax in our beautiful surroundings.

Looking forward to your visit,

Theo and Elaine